Short interview with Evelin Stermitz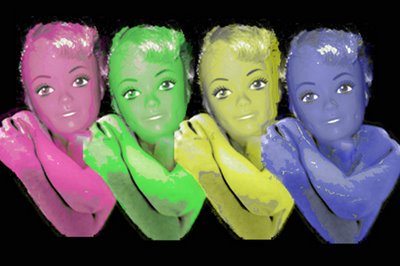 About your background -
The background of my work are my studies of

media communication and visual communication in special fields of women's related topics

. These topics are based on postfeminist theories, gender, sociology, philosophy, psychology and art.
- When did you create your work ?


This work 'World of Female Avatars' is created in the years 2005/06 as a project of Artnetlab. The Academy of Fine Arts is developing new media art projects together with students of the Faculty of Computer and Information Science of University Ljubljana. 'World of Female Avatars' is one of this inventive collaborations and merging of art and computer science between Art Academy and applied informatics department.
What inspires your work ?


Sometimes inspiration comes from everyday life as a women and the position of women in society viewed by Brecht's strategies of 'distanciation', 'defamiliarization' and 'dis-identificatory practices'. All in all perceived as effects of social discourses and institutions.
What is art ?


Art is an open system of different directions. New art media are influencing elderly ones and changing the traditional perspectives of creating art and also the term of being an artist. Art is an open process and very exciting.
Have you ever exhibited in Italy ?


I did not have any exhibitions in Italy yet. But I look forward to showing my work in this country full of art everywhere.
How do you imagine your net_art work in a city_space ?


To install this net art project in a city space would be quite real. Women could meet in a real place and talk about their body by getting impetus from the website. It would be like creating a real world of female avatars on a special place like a performance. The terminus 'avatar' would become real, because everyone of us is somehow one avatar, created through fashion and influenced by role models of society. The important thing is to view the female body as a political discursive economic object, and women should realize that it is their body and this body does not belong to someone else, that it's unique and cannot be recreated through influences of role models or examples of pictures in media.
More about your work -


I was working with pure photography first, then also with video and net. I recognized that later media like video and web projects cannot be without its predecessor. So we are living in a complete flush of picture world now, which I also try to escape in my projects sometimes by going into abstraction, like in the black and white photographic project 'Women/Body/Stories'. In fact this project was also the impetus for the 'World of Female Avatars'. But in this photographic project I used photography as a media for a distance view on interviews and for depersonalising. The pictures are only interesting by its graphical structure and show not much iconographic or iconological content. In contrast to this the project 'World of Female Avatars' is very colourful and close to a stimulus satiation, like the internet itself.

You can find most of my works documented online at the website

http://es.mur.at/

Evelin is also online on gallery2006